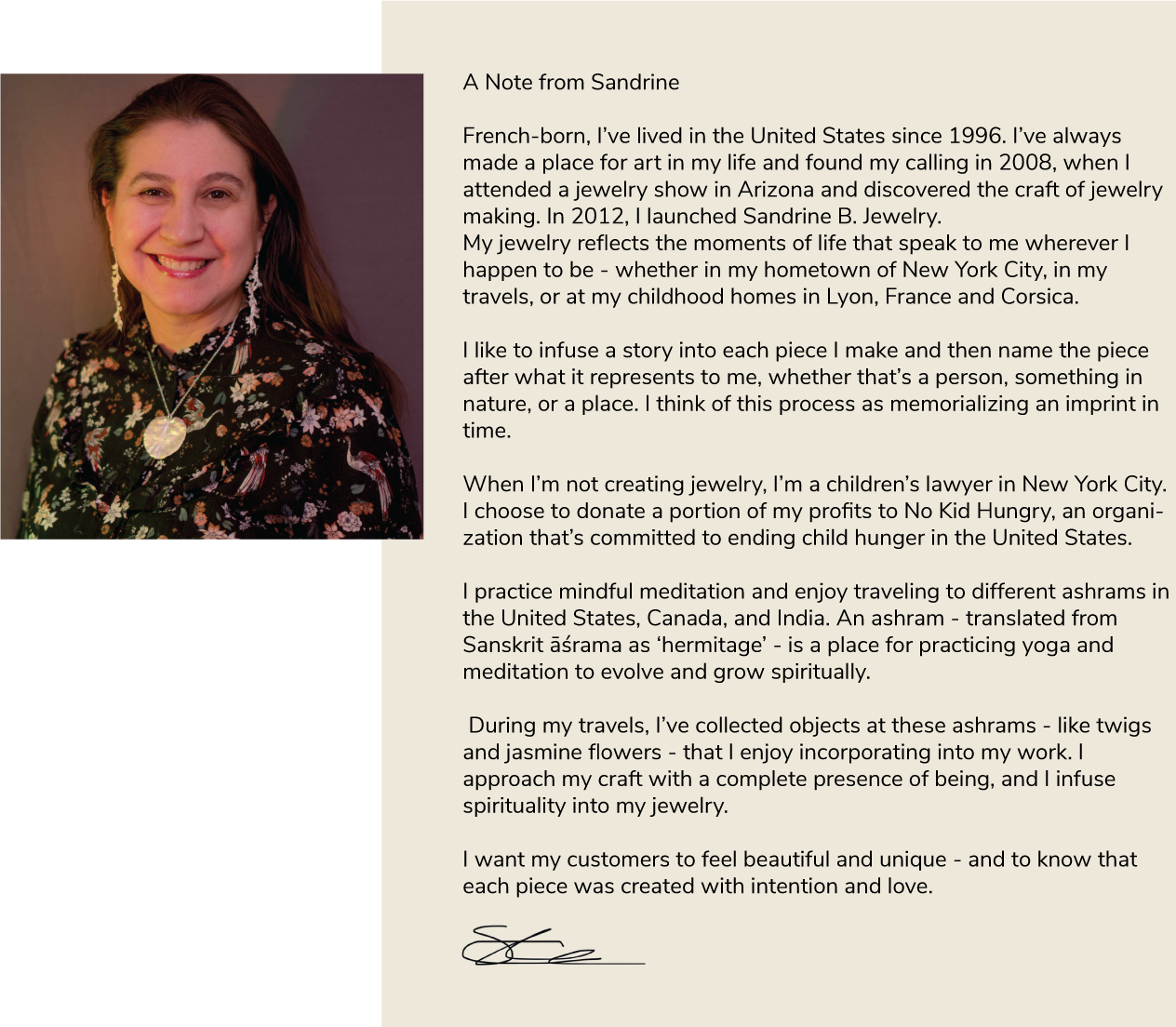 Our Mission
We believe in wearable art as a means to preserve memory and amplify the beauty of nature. We see the meaning and magic in discarded, forgotten items and seek to illuminate all the things they represent - concepts like memory, utility, and hope. Beauty transcends time, gender, race, and all other limiting constructs. Our jewelry is a reminder that we are more than what meets the eye.
Our Inspiration and Process 
We memorialize antiques, discarded found objects, and remnants from nature. Primarily, we cast these objects and then generate a mold from that casting. Using the mold and an ancient technique known as the "lost wax" process, our jewelry is made with recycled metals, fair-mined gold, and responsibly-sourced gemstones. The "lost wax" technique adds durability and a substantial heft to the finished piece, so it becomes an heirloom that can be enjoyed today and for many generations.
Our Commitment 
All our jewelry is mindfully handcrafted, cast and finished by hand in New York City. We pride ourselves in promoting traceability and transparency, and we responsibly source all our metals and gemstones. By committing to this practice and by tracing all of our suppliers, we avoid contributing to injustices in the supply chain. We ensure fair wages, working hours, and good working conditions. 
We're a member of Made in NYC, an initiative to build an equitable and sustainable city for all New Yorkers by supporting New York City's manufacturers. In addition, we belong to the Jewelry Industry Summit, a community of individuals from all sectors of the industry who hope to develop a collaborative approach to solving sustainability issues and empowering businesses in the community to source and produce more responsibly. 
A portion of all sales is donated to non profit organizations including, No Kid Hungry, a non-profit organization that's committed to ending child hunger in the United States. Not only does the organization provide nutritious, in-school breakfast programs to children at high-need schools, but it also works with elected government officials and agencies to strengthen and improve programs like the Supplemental Nutrition Assistance Program (SNAP).